News
Last modified on 2018-05-18 04:18:53 GMT. 0 comments. Top.
Come hang out with us in the South Bay on May 19, 2018! We're opening for Faith UMC's annual Matsuri of Faith at 10am.
Come early for the taiko and stay for the games, food, silent auction and other entertainers. This event is free, and an awesome way to spend your Saturday with the family!
Last modified on 2018-05-18 04:14:39 GMT. 0 comments. Top.
Join us this weekend at the East San Gabriel Valley Japanese Community Center's first FUNdraiser of the year, BBQ Bash!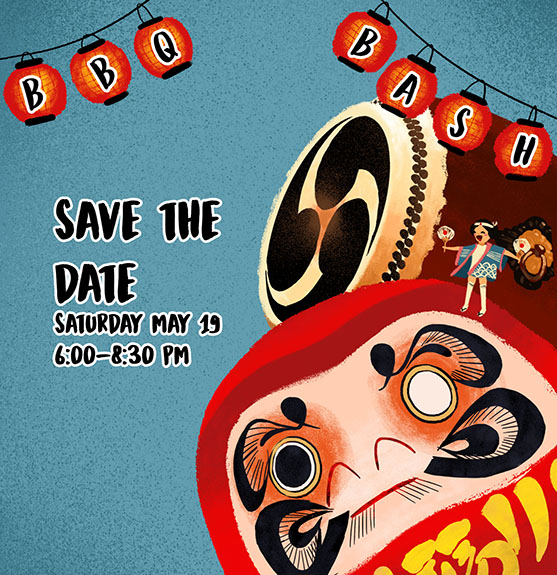 We'll be kicking off the evening's festivities, so be sure to get there early and grab a good seat. The event begins at 6pm, at 1203 West Puente Avenue in West Covina. Hope to see you there!
Last modified on 2016-12-26 07:18:13 GMT. 0 comments. Top.
Start 2017 off with learning Japanese drumming with Kishin Daiko!
Our class for beginners will be starting January 2, 2017. This 8-week course will be open to all ages 7 and up, so pass the word along to your friends and family. The first lesson is FREE with no obligation to continue, so come check it out at no cost!
Dates: January 2 through February 20, 2017 on Mondays
Time: 6 pm to 7 pm
Where: In the Sugimoto Family Social Hall
Cost: The fee is $80 if you choose to take the course, and we're offering a family plan rate!
Please email for more details: president.kishin@gmail.com
Last modified on 2016-10-12 07:22:57 GMT. 0 comments. Top.
Join us this weekend as Descanso Gardens celebrates the 50th anniversary of their Japanese Gardens! Anyone who purchases regular admission is free to take in any one of our four shows. Pro-tip: arrive early to secure a seat, and stay until the end to get a chance to jump on a drum during audience participation!
Dates: Saturday 10/15 & Sunday 10/16
Times: 11am and 1pm
Location: Descanso Gardens, Under the Oaks Theater
Address: 1418 Descanso Dr, La Cañada Flintridge, CA 91011
Additional info: Descanso Gardens website
Last modified on 2016-08-30 00:10:37 GMT. 0 comments. Top.
Tickets for our 35th Anniversary Concert go on sale to the public September 1, 2016! Additional information as follows:
Saturday, October 22, 2016 at 7:00pm
Aratani Theatre
244 S. San Pedro Street
Los Angeles, CA 90012
Reserved Seating
Orchestra – $25 / $22.50 for JACCC members & groups of 10 or more
Balcony – $15 / $13.50 for JACCC members & groups of 10 or more
Tickets are available for purchase online 24/7 at www.jaccc.org
All sales are final, no refunds or exchanges allowed
To take advantage of the JACCC member and group discount, please purchase directly through the Aratani Theatre Box Office
Aratani Theatre Box Office
Ph: 213-680-3700
Hours: noon to 5pm, Tuesday – Friday
This concert will be Kishin Daiko's greatest fundraising initiative to date. Proceeds from the concert will benefit all the programs Kishin provides to the community. Please consider partnering with us by making a donation! Click on the "Donate" link below to access our PayPal page:

Click here to view previous posts.