News
Last modified on 2018-08-09 04:19:15 GMT. 0 comments. Top.
2018 Nisei Week festivities are kicking into gear in Little Tokyo in Downtown Los Angeles! Of course, one of our favorite events is Taiko Gathering, which will take place on August 19th. Prepare yourself for a full day of taiko groups from all around Southern California, including Kishin Daiko in the afternoon!
Date: Sunday, August 19, 2018
Time: approximately 4:00-4:30pm
Location: JACCC Plaza Stage
Address: 244 South San Pedro Street, Los Angeles
Admission: free!
Event website and performance line-up: Nisei Week
Last modified on 2018-07-25 05:52:55 GMT. 0 comments. Top.
We're excited to announce that we'll be one of the many performers celebrating the 5th Anniversary of Asano Taiko US! This special event is taking place on this upcoming Sunday, July 29th, at the Aratani Theatre in Little Tokyo at 3:30pm. Tickets are still available through the JACCC website, so grab yours today!
Last modified on 2018-06-21 03:07:35 GMT. 0 comments. Top.
It's summer, which means obon season is upon us! Come join us at the West Covina Buddhist Temple's summer festival this Saturday, June 23, 2018! This free event will be fun for the whole family, and Kishin Daiko will take the stage around 6pm. Click here for more information.
Last modified on 2018-05-18 04:18:53 GMT. 0 comments. Top.
Come hang out with us in the South Bay on May 19, 2018! We're opening for Faith UMC's annual Matsuri of Faith at 10am.
Come early for the taiko and stay for the games, food, silent auction and other entertainers. This event is free, and an awesome way to spend your Saturday with the family!
Last modified on 2018-05-18 04:14:39 GMT. 0 comments. Top.
Join us this weekend at the East San Gabriel Valley Japanese Community Center's first FUNdraiser of the year, BBQ Bash!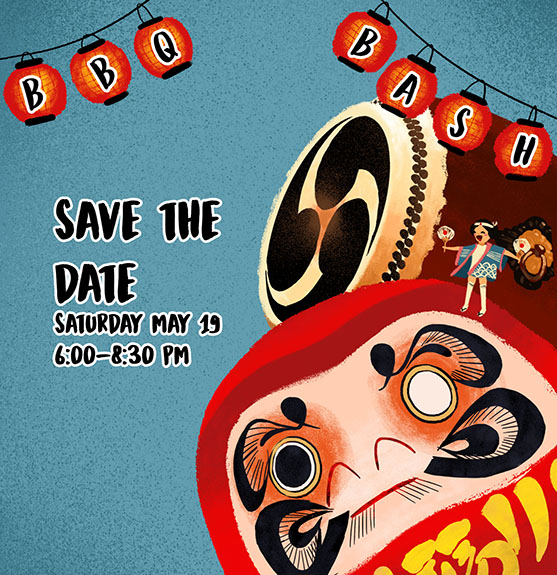 We'll be kicking off the evening's festivities, so be sure to get there early and grab a good seat. The event begins at 6pm, at 1203 West Puente Avenue in West Covina. Hope to see you there!
Click here to view previous posts.